Whether you can search for data from the 01X through 09X numbers and codes fields depends on the database you target. While some databases may index the various control numbers, like the UPC, music publisher number, and Amazon Standard Identification Number (ASIN), and make them available for searching, how and whether various fields are indexed can vary greatly. Most databases index the International Standard Book Number (ISBN) in field 020 as ISBN and the Library of Congress Control Number (LCCN) in field 010 as LCCN, but some also index other numbers, like music publisher number, ASIN, and UPC) as ISBNs. These fields may also be indexed and searchable as
note
or
any
. BookWhere cannot control how individual libraries and library systems index or what fields they choose to index. Experiment with searching by different fields to find searches and databases that work best for you.
The official Z39.50 field for music publisher number is called "Number publisher for music" in BookWhere. You can select the field from the Quick Search Tool bar drop-down list or from the search fields within the Search Query window.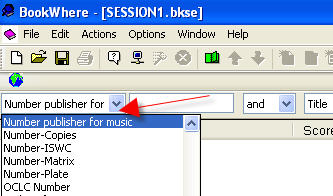 If you do not find a match on a numeric key search, searching for author and title is a good way to find music CDs and movies. You can then use the Analysis Window (bottom left corner of the BookWhere session screen window) to help filter the results according to media type and you can also include other fields here, too, like the 024 tag or other number fields. The image shows a search for author Adele and title 21 that returned 285 matches. By using the analysis panel to select only the 54 music recordings and the 21 music publisher number matches, we quickly narrowed down the results to just the ones we wanted to see.