BookWhere is licensed to run on a single machine. Customers under a current maintenance agreement can move their BookWhere license to a
new computer
by using the Release Activation option.
Open BookWhere
Choose Help  Release Activation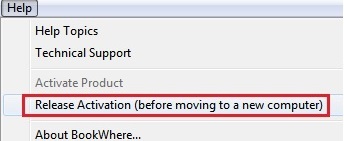 BookWhere prompts "The operation will release the currently registered license (BKNNN-NNNNN-NNNN), and a pop-up dialogue asks you to confirm that you want to continue.
Make note of the serial number so that you can re-use it to activate the software on a new computer.
You do not need to uninstall BookWhere from the old computer, but you can save and transfer the settings from the old machine to the new one by following the backup-and-restore steps, http://www.webclarity.info/support/faq/how-do-i-backup-bookwhere-settings/
For version 7.2.0 and earlier releases, we will issue a new serial number and withdraw your old license once you contact
support@webclarity.info
and provide the following information:
BookWhere Serial Number (In BookWhere, choose File->Properties)


Reason for move (new computer, moving to different workstation, etc.)


Confirmation that BookWhere will be removed from the old computer
Important Note
: Under the terms of the License Agreement, a single BookWhere license/activation can be installed and used on only one workstation.