You can modify the existing Display Rules in BookWhere's Options > Settings > Rules Tab so that the information you need to show is readily available. If you want to add a new rule, please see how
here
.
Updates you can make
Add another subfield to display to a pre-defined field
Add or remove a displayed field
For example, if you want to see both 260 subfield b (Name of publisher, distributor, etc.) and the RDA field 264 subfield b (Name of producer, publisher, distributor, manufacturer), you can do that. Only the field listed first in the Rule shows in the Record List Window, but all defined fields show in the Analysis Panel.
Change the order in which the fields display
Change the extraction pattern; for example, instead of showing just a subfield or two, show the entire field
How to update a Display Rule
Go to Options > Settings > Rules
Browse the current list of Rules
Click the plus sign to expand the rule you want to update
Open the MARC21-defined rule for Publisher
Click Add Field
Define the "Extract data in the following way" field to "Extract a pattern"
In the Field Name Template panel, enter 264
In the Extraction Template, enter the subfield delimiter $ [the dollar sign] and the subfield, for example, $b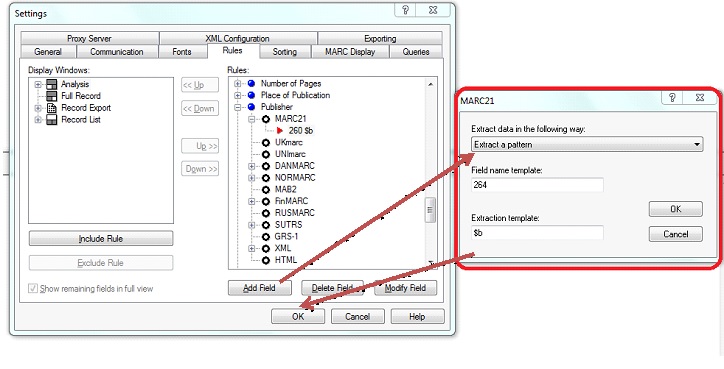 See our instructions for
adding a new display rule
, too.